Help Centre
Welcome to the eTrace Help Centre.
If you want to learn more about using eTrace, you've come to the right place.
Welcome to eTrace
This quick start article will help you learn the basics so you can get going.
---
Searching with eTrace is simple and intuitive, however there are also powerful tools to help you narrow your search criteria down and pinpoint exactly who you're looking for.
Top things you should know about how eTrace works:
A exclamation mark icon will appear to the left of the name field if there is additional information relating to any of the displayed information. Click or tap on the exclamation mark or chevron arrow on the left to expand and display the additional information.
Phone numbers or addresses that appear in bold can be clicked or tapped to open in a new window.
Names that appear in bold can be clicked or tapped to open a new window with detailed information including a map of previous residences and historical information.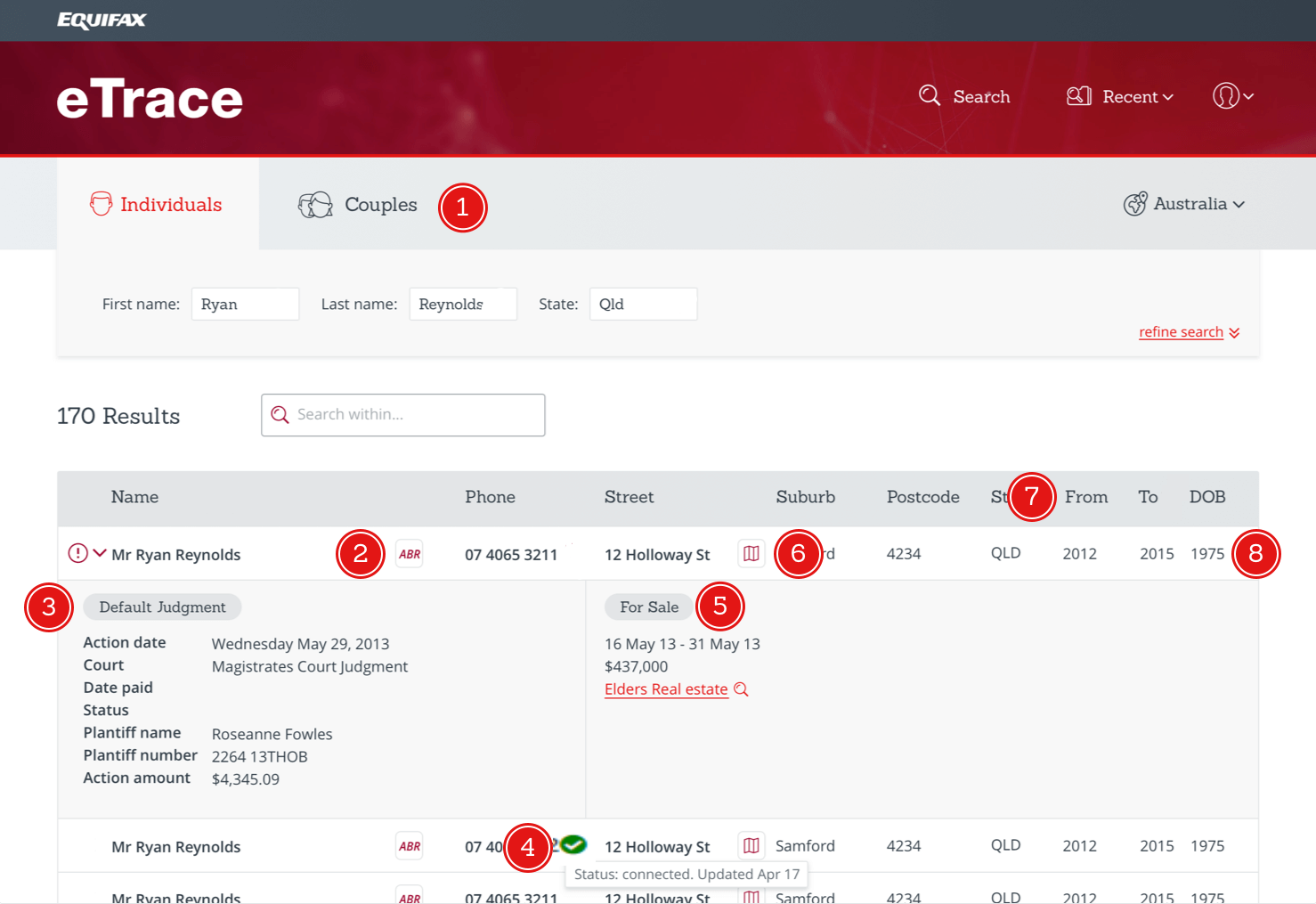 Individual or couples search

You can search for individuals or couples. The tab at the top of the page allows you to search by either of these criteria to make sure you're getting relevant results.

Search name on ABR

The Australian Business Registry is a publicly available database where you can check a person's details.

Court & Bankruptcy History

A exclamation mark icon will appear to the left of the name field if there is additional information relating to criteria including court and bankruptcy history. Click or tap the chevron arrow at the left of the name to expand the information panel below the result.

Phone Connection Status

An phone icon will appear next to any displayed phone numbers if the number in question is confirmed to be connected. The date since this number has been connected can be viewed by hovering over the phone icon.

An icon with a line through the phone icon will appear if a number has been confirmed to be disconnected, with the date of disconnection displayed by again hovering over the phone icon.

If no clear data is available either way this field will appear blank.

Sale & Rental History

Upon expanding a search result row using the chevron arrow you will be able to view the current status of a property below the address field. This will display the rental or for sale status of the property, as well as any relevant information regarding date sold, price, and real estate agency.

Street Map View

To see the location of an address contextually on a map simply click the small map icon that appears to the left of an address. This will open the location in Google Maps in a new window.

Occupancy History

The From and To fields represent the current occupancy data at the address identified.

Date of Birth

If the date of birth is not confirmed it may be displayed as an approximation.
Product Support and FAQs
Yes, supported browsers include:
Chrome 18 and later.
Firefox 24 and later.
Safari 7 or later.
Microsoft Edge.
Internet Explorer 9 to 11.
on all modern operating systems.
It is possible to change your password from the Account menu. Click on the Account menu then select "Manage Account" from the submenu. Select the "Settings" icon from the tool bar and you will then see the option to change/update your password. If you forget your password please contact Equifax Support on 1300 748 215 or e-mail Equifax support at subscriptions.au@equifax.com
Primary / Admin users can see the search history of all users within their account. For all regular users you will only be able to see what you have searched and no other users. - How to contact support?
You can contact Equifax on the phone by calling 1300 748 215 for any assistance, you can also e-mail Equifax at subscriptions.au@equifax.com
Yes there is a user guide for eTrace Download the guide
Can we help you further?
Talk to us

Call 1300 748 215 during office hours Mon - Fri 9:00am - 5pm (AEST).

Email us

Got a question? Submit one to subscriptions.au@equifax.com and we'll get an answer for you as soon as possible.